Crypto coins and the blockchain are becoming more and more popular in our lives. And they are a part of reality rather than an investment project or speculation. Their usefulness in the economy is very present. In the last few months, big platforms, companies and fields are choosing this technology that will surely transform the way financial operations are carried out.
Concretely, buying through the internet with PayPal or Shopify with crypto coins is now possible. And eCommerce is one of the fields that can be the most beneficial and consolidate crypto coins as a real payment method.
Some of the advantages of paying in crypto are very basic but you may not know about them. We'll explain them next.
Advantage of paying for SMS with crypto coins
The main advantages of this payment method include:
The possibility of paying from any country or region without being limited by financial entities.
A confirmed transaction in just seconds or minutes depending on the network used.
Pay fees only to the crypto coin's network of your choice. These are known fees, distributed between the different entities that keep the network and they are always the same.
Simplicity to carry out a transaction because they are made online with a direction that identifies the wallet to which you want to send money.
Other benefits of buying SMS with crypto
Besides, these are some other benefits or advantages of crypto coins:
A worldwide system without restrictions.
No physical support.
Divided transactions. Any crypto coin can be divided or partitioned in an infinite number of decimals so transactions of any amounts can be made.
Anonymous system of sending and identifying wallets.
Resistant to disasters or partial failures because it's in a de-centralized database.
Without intervention. This means that nobody can modify or steal the money from a wallet without a password and there's no third-party that can block the system.
An exponential growth of projects and institutions that learn about the blockchain and cryptocurrency.
But you should also take into account certain disadvantages.
Issues to consider when buying SMS with crypto coins Algunos inconvenientes o desventajas:
High volatility makes it risky to invest or save money in crypto.
A technological barrier that makes it difficult to use crypto daily by a certain number of people.
A low number of companies have adopted this method for payments today.
There's a risk of regulation by governmental institutions.
Buy SMS with crypto coins
Following this tendency, from the month of April onwards we have made this payment method available, using the main crypto coins for all the active accounts on LabsMobile.
LabsMobile is global and we have coverage in more than 200 countries. Our services can be hired and consumed by companies and entities in any country and the receivers of SMS can also be anywhere. So, crypto coins are an ideal payment method for a project like LabsMobile.
Using the platform Coinbase (https://www.coinbase.com/) and its product for eCommerce (https://commerce.coinbase.com/)  we have integrated it with our WebSMS platform to pay using the following crypto coins.
BTC – Bitcoin
BCH – Bitcoin Cash
ETH – Ethereum
LTC – Litecoin
DAI – Dai
USDC – USD Coin
In the future, we'll also incorporate the crypto coins that Coinbase adds to its eCommerce product.
Any purchase or recharge in LabsMobile done with crypto will have the same validations and guarantees that exist for other payment methods. In this way, the account will need to be validated and an invoice will be submitted with all the details of the client and the transaction.
Steps to follow to purchase with crypto coins in LabsMobile
How to purchase with crypto coins:
Access your LabsMobile account.
Access the purchase form in the WebSMS app.
Select the number of SMS or credits to buy.
Select the payment method " Cryptocoins- Coinbase"
Once in the checkout of Coinbase, select a cryptocurrency or use your account if you have one already.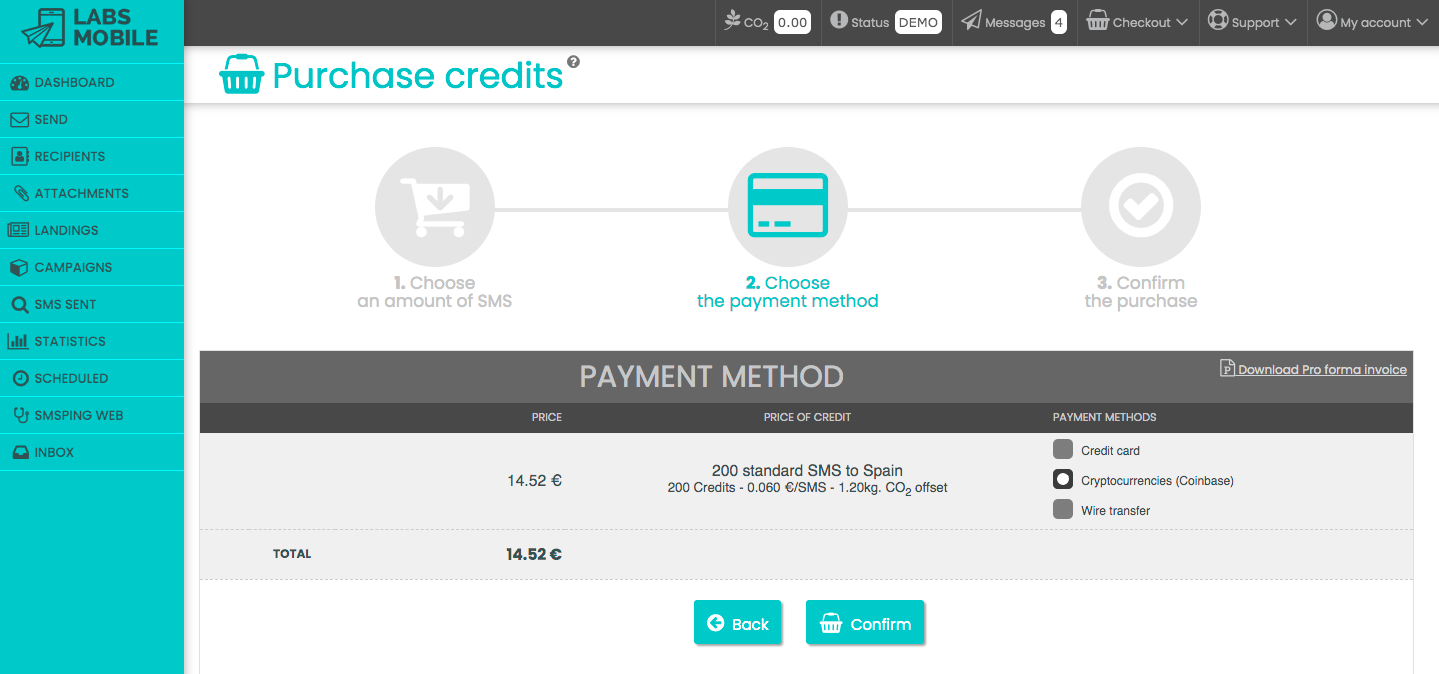 Meet SMS-iT™. The Cheapest Bulk Text Message Marketing Platform on the internet powered by A.I., a Decentralized Gateway, and a Database of 1billion+ segmented mobile #'s of potential customers, that can be used in building TCPA compliant consent lists for mobile marketing campaigns.
Increase your traffic, subscribers, and sales; Automate your workflow and access fresh opt-in leads, with our 2-Way omnichannel messaging & marketing platform. Built for businesses, Internet of Things (IoT), Metaverse & the Blockchain. CHANNELS: SMS, RCS, MMS, voice, email, chat and fax
SMS-iT™ allows you to intelligently search mobile records, build TCPA compliant consent lists for mobile marketing campaigns, target potential customers and more with A.I. & Automation.
- Send SMS/MMS/RCS/Fax/EmailVoice messages across the world at the cheapest rate online
- Drive more sales with highly targeted promotions
- Provide better customer service with 2-way messaging
- Keep customers engaged with automated texts
- Save time and integrate with your existing marketing software
- Learn more about customers with Data Collection
- Gather useful feedback with polls and surveys
- Much, much more!
It is undisputedly the best and #1 AI-powered omnichannel messaging and marketing platform, from all other SMS messaging platforms, SMS marketing platforms, text marketing platforms, text marketing companies, or SMS marketing software on the planet!
Over 1 000 000 000 segmented records to target: Target your potential customers using their exact Geographic locations, and other segmented characteristics, like profile data, demographics, interests, industry, behavior, location, etc. Communicate without limits!
Why We Are #1
1) Bulk and 2-Way Omnichannel Messaging & Marketing - SMS, MMS, RCS, Email, Voice, Fax and Chat Apps.
2) Cheapest and lowest rates in the industry.
3) SMPP - Use your SMPP accounts from Twilio, SignalWire, Plivo, and more, with our Decentralized Version.
4) Use your Sim Card with our Decentralized Version.
5) 51+ smart features that can be used without limits - unlimited.
6) Database of 1billion + records, which you can use in building your TCPA compliant list for sms marketing campaigns. Useful for those without a mailing list.
7) Smart programmable API built for businesses, IoT, Blockchain and the Metaverse.
8) Decentralized Gateway for flexibility and perfect control of your campaigns.
9) 10DLC registration directly within the platform, to stay compliant with Campaign Registry and TCPA regulations.
10) Zapier Integration to connect to 4000+ apps.
11) Artificial Intelligence for Analytics and Statistics.
12) Automation to completely automate your entire workflow.
13) Tons of native integrations with the top productivity apps. More added continuously.
14) More control and freedom over what kind of messages you send with the decentralized version.
15) Send Unlimited SMS and MMS messages with the decentralized version, for just $199/month. Message cost is $0/message.
16) Use our API and Smart Tools directly in the Metaverse to sell your products, services and build your subscribers list.
17) Seamless integration for the Blockchain and Internet of Things, via our programmable API and Smart GUI.
18) Worldwide coverage.
19) Guaranteed delivery - Get your messages delivered, GUARANTEED, with statistics to track delivery.
and more.......
Get Started For FREE Now - REGISTER and Receive 100 FREE SMS/MMS/Voice Credits Today!
Want to view our 51+ smart features, so that you know why SMS-iT is the best and #1 from all SMS messaging platforms, SMS marketing platforms, text marketing platforms, text marketing companies, or SMS marketing software on the planet? Then CLICK HERE - https://www.smsit.ai/features.html
Reference: LabsMobile


##best ##smart ##smsautomation ##smsmessaging ##text #Artificial-Intelligence #Automation #Blockchain #Case-Study #Featured #Futuristic #marketing #Metaverse #Sales #Smart-Ideas #SMS #smsit #smsmarketing #Social #Software #Technology